Big Data Florida

Presents

Scott Tilley
Florida Institute of Technology
stilley@fit.edu

Documenting Software Systems with Views: Lessons Learned for Communicating Big Data

Monday, April 10, 2017
Documenting Software Systems with Views: Lessons Learned for Communicating Big Data
A "view" is a form of graphical documentation representing some aspect of a software system. Views can be an important aid in helping to understand large-scale applications. They can be automatically produced through reverse engineering. This talk summarizes our findings and lessons learned related to documenting software systems with views from numerous projects spanning 25 years of research and practice (1992-2017). These findings have continued relevance for communicating big data, with tailored guidance for data scientists, software and systems engineers, and technical writers alike.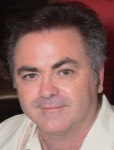 Scott Tilley
is president and co-founder of Big Data Florida, a professor at the Florida institute of Technology, president and founder of the Center for Technology & Society, president of the Space Coast Writers' Guild, and an ACM Distinguished Speaker. His recent books include
Systems Analysis & Design
(Cengage, 2016) and
Hacktivists Anonymous
. He writes the weekly "Technology Today" column for Florida Today. Contact him at
stilley@bigdataflorida.org
.