Big Data Florida

Presents

Rob Sippel and David Lowe
FIT Evans Library

Big Data Visualization with Tableau and R
Seeing is Believing
Monday, March 13, 2017
Big Data Visualization with Tableau and R
Perceiving actionable information in big data can be like finding a needle in a server stack. Since columns and rows have been a part of our human livelihood for only a small fraction of our existence as a species compared to our time-tested hunter-gatherer instincts, it only follows that making sense of data can be greatly facilitated with visual signifiers that combine colors, lines, shapes, directionality, proportion, symmetry, and balance to mark significant traits—from outliers to comfort zones. Portraying and expressing features in the data landscape require software that launches reticent values into meaning-laden metaphors. This talk by Florida Tech librarians Rob Sippel and David Lowe will cover two of the most popular visualization tools used by data scientists today: Tableau and R. Topics will include software features, applications, and demos with various data sets.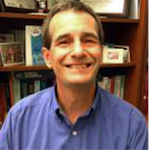 Rob Sippel
took an unusual and circuitous path to librarianship. With degrees including a BS Naval Architecture & Marine Engineering, an MBA and MS Transportation & Logistics, he worked in fields varying from advanced naval ship design to supply chain consulting before returning to school once more for his Masters in Library & Information Science. The result is a librarian with a deep appreciation of and belief in the value of data-based decision making. Contact him at
rsippel@fit.edu
.
David Lowe
enjoys the 360° ontological view that librarianship affords, neatly bridging all branches of inquiry across sh elves labeled from A to Z. Undergraduate C.P. Snow assignments revealed the importance of negotiating between high tech and the human touch. Librarianship has taught him the primary importance of connecting existing knowledge of every stripe to its seekers through intuitive interfaces, and likewise connecting data significance to would-be interpreters through handy tools. Contact him at
lowed@fit.edu
.